About OnlineRoulette.com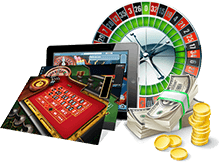 There are a lot of sites out there devoted to the topic of online gaming, but most of them try to cover tens, hundreds or even thousands of different types of casino games! Just negotiating your way around their sites can be a nightmare. When we created this site we decided to do things a little differently.
OnlineRoulette.com is designed to help you cut through the clutter and find all the information you're looking for without having to navigate a lot of complicated menus, categories and sub-categories. We hope you'll find it much easier to use than the average online gambling information site!
When it comes to roulette, we know what we're talking about!
Roulette sites are the only ones we rate and review, so if roulette is your game then you're definitely in the right place. Passionate casino players ourselves, we know pretty much everything there is to know about roulette, including many of the different variations you might come across…European, American, French, multi-ball and multi-wheel to name just a few.
Because we focus on just one game, roulette, we know exactly what to look for when we're reviewing and rating new roulette sites. Things like software quality, speed, realism, customer service and how immersive the experience is. We take all these things into account and compare them with our combined years of roulette (and rouletting site reviewing!) experience to ensure that you get only the best sites out there.
Who are we?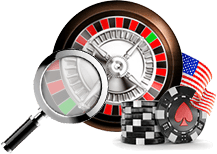 In a nutshell, we're a team of US-based reviewers who spend far too many of our waking hours thinking, talking and writing about roulette! Fortunately, through creating this site, we've found a useful outlet for all of that knowledge. But how do you know you can trust our content? Good question! Here's the answer:
We use our own money to test out sites - no casino or roulette site pays us to review them or alter their reviews, and you can rest assured that our ratings are always completely unbiased because we have nothing to gain by promoting a lackluster product. In fact, we have everything to lose since our reputation is at stake with every referral we make.
How we rate and review sites
We put our technical experience to good use analyzing every aspect of roulette games at online casinos. This includes, but is not limited to:
Graphics: It may be superficial, but the appearance of a site is a critical factor in its playability

Traffic and reputation. We ensure that sites have the steady flow of traffic that you'd expect from a reputable site, and that there are no horror stories from previous users

Roulette variations. Variety is the spice of life! Even if you may not play them very often, if at all, it's always good to know that there are a few different variations in case you fancy trying something different

Security and customer service. It's important that you're able to feel safe when making deposits, playing and requesting payouts. If you do have any problems, it's imperative that the owners are equipped to deal with them quickly and efficiently.

Speed: This refers to both loading times and the speed at which payouts are generated!
We've already used these criteria to help thousands of visitors find reputable sites at which they can play roulette, and we hope to continue using it to help thousands more. Thanks for visiting.