ONLINE ROULETTE BANKING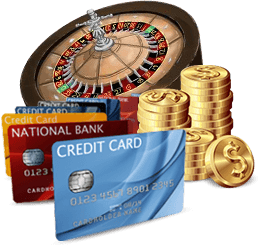 Play money roulette online is great - you can get a feel for the various games without risking a penny.
But pretty soon you'll want to switch to playing for cash - cold, hard cash.
But which deposit method should you use, and which one is right for you? With Internet casinos in 2023 offering a ton of different banking methods it's hard to know where to start. That said, if you're looking for a broad range of banking methods and transactions that are fast and convenient, we recommend Intercasino.
With our handy quick links below you can choose a real money method that's right for you. So, follow our great descriptions of some of the ways you can pay to play in 2023 and in no time you'll be making deposits and withdrawals like a champ.
FAQ
Which payment method is recommended?
The one that works best for you! Most online casinos let you use your debit or credit card to make payments, however not all players may have one or their transactions from their countries may be blocked. In that case, e-wallets are the most useful and convenient alternative. In some cases you may be able to make direct bank transfers.
Not necessarily. If you don't have a credit card you can easily apply for a pre-paid card which lets you make payments online. Alternatively, you could sign up for a virtual card or e-wallet service that let you link a bank account and then use your account email and password to make transactions on the internet.
Is my personal information safe with all suggested methods?
Yes, all the payment methods recommended on this website make use of advanced encryption technology to keep your personal and banking information safe and private online.
How can I ensure a casino is trustworthy?
The best way to determine if a casino is trustworthy is to read and compare reviews from real players who give you first-hand and unbiased information about the safety of any casino.
E-wallets, Debit or Credit - which is better?
E-wallets are probably the safest and convenient payment method, which you can also use in combination with a debit or credit card. In fact, by linking a card or bank account to an e-wallet you add an extra layer of security and privacy since you won't have to type in sensitive banking information when making online payments. Making deposits is free and withdrawals carry very small processing fees.