GUIDE TO MULTI-BALL ROULETTE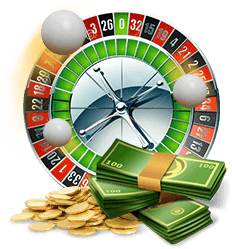 Live roulette is pretty simple: walk into your local casino, find a free space by the roulette table and place your bets. There's one wheel and one ball - how easy can it be?
Online, however, is very different. With Multi-Ball wheels online, you can play three or more balls on the same wheel simultaneously. There is a ton more action, loads more betting fun, and overall real-money Multi-Ball Roulette games are a great way to improve your long-term profits.
Several sites now offer the option of playing Multi-Ball roulette, and we have compiled a list of the best casinos that have it. As our top pick, we feel that there are few that do it as well as Intercasino, but you may want to take a look at some of the other options.
The Roulette Online Revolution
Multi-Ball Roulette online is perfect for the modern Internet casinos in 2023.
As the name suggests, on the special roulette wheel you will see not one, but two or three - or 10! - balls spinning at the same time.
The beauty of the game is that you can bet on several numbers and hedge your bets, therefore spreading the love a little.
To play, place your bets in the same way you would on a standard table. Then hit the 'Spin' button and watch the Multi-Ball Roulette wheel do its magic with all the mayhem of seeing multiple balls falling all over the wheel.
Loving the Single Zero
Generally, you will find Multi-Ball Roulette online played in the European format, which means the numbers 1-36 plus a single green zero pocket.
Why is that a good thing? Well, with the green zero slot (which only pays out if you actually bet on the zero itself) the house edge is 2.7%.
Now compare that to the American Roulette game where they have a second, double zero pocket. This increases the house edge to 5.26% - a massive disadvantage to the player.
Multi-Ball Roulette Strategy
The major factor in working out how to size your bets is whether the roulette games you are playing are European or American Roulette.
Never forget the importance of the house edge; a 5.26% edge in American games can make a lasting impression on your bankroll - and for all the wrong reasons.
The house edge means that the odds you are getting from the casino are always less than the true odds. So, in a single zero European Roulette game, hitting one number should be 37/1. However, the casino actually pays out 35/1 - the difference is the edge.
Sticking to even-money, outside bets like Odd/Even or Red/Black makes the bets work in your favor a little because you're gambling on the safer, more 'boring' bets.
However, with multiple balls in play at one time, you can make even more small wins by persisting even more with the safe even-money options.
Find the Best Multi-Ball Roulette Online
Hopefully these Multi-Ball Roulette tips will see you in good stead for hitting the big rooms and winning more cash in 2023.
Real-money Multi-Ball casino games are what the Internet was invented for: they're fast, furious and can only be played on the net.
So, here's another good Multi-Ball casino game strategy for you - use our great reviews and compare sites for yourself. Not all casinos on the web in 2023 offer real-money Multi-Ball Roulette games so it's lucky that at OnlineRoulette.com we have done the work for you.
Choose from one of our top Multi-Ball Roulette online rooms today and earn yourself a great welcome bonus on a first deposit. You may even be able to use some Multi-Ball Roulette strategy and activate that bonus cash even quicker at the real-money Multi-Ball roulette games.
FAQ
How does Multi-Ball roulette work?
Multi-ball roulette is a variant of roulette where you can play three or more balls on the same wheel at one go.
Multi-ball roulette isn't very well-known yet and new players are understandably intimidated by all that action happening on the wheel. Moreover, no many casinos offer multi-ball roulette on their websites.
You can check out our complete guide to playing multi-ball roulette and compare site reviews to find the best place for you to play it online.
What are the main differences with other variations?
The main difference is that multi-ball roulette has more than one ball spinning around the wheel at the same time, which means that when the wheel stops turning there will be more outcomes and better chances for you to win.
Multi-ball roulette is generally played in the European format so the wheel has numbers running from 1 through 36 and a single zero. The house edge is the same as European style, but since there are more balls spinning on the wheels you can spread your bets and improve your odds of winning.
Can I use an existing betting strategy?
Yes, you can use existing betting strategies on multi-ball roulette.
Will a roulette system work?
Not necessarily, however since there's more than one ball in play in multi-ball roulette you have better chances of making small wins if you persist.