TOP 10 ONLINE ROULETTE TIPS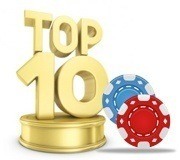 If you want to know how to win at online roulette, you will need a little more than a few bucks and a log-in and password.
To play better online roulette, gambling fans need a good understanding of the odds, know which games to select, and where to find a top website to start with.
Visiting OnlineRoulette.com is probably the first great step you've made to becoming a better player, but for a handy how-to guide, here are our top 10 online roulette tips to make your gaming journey a happier one.
1 - European or American?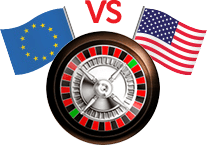 After you have chosen an online roulette website to play at, the next step is to find a game to play. Most good Internet casinos will offer both versions of the game, and while American Roulette is a little more gung-ho with its extra double-zero slot, it drastically increases the house edge.
European Roulette, on the other hand, has just the numbers 1-36 plus a single zero slot and nothing else, therefore reducing the house edge to around 2.6%. If you want to win more online roulette games, consider sticking to European games.
2 - Stick to Even-Money Bets
As well as picking a good game, knowing how to win at online roulette is also about picking decent bets.
Inside bets like the single numbers pay out 35/1, and while the thrill of seeing your number come up is huge, it's unlikely to happen that often.
That's why, to play better online roulette, it's wise to stick to the outside bets that pay even-money - that is, Red/Black, Odd/Even, or the 1-18 and 19-36 sections. They may not be sexy, but betting the outside is one of the best online roulette tips to learn early on.
3 - Try Out a System...Just Once
There are many "surefire" gambling systems attributed to poker, but none that has been proven to make you win more online roulette games.
However, just because roulette online systems are baloney, doesn't mean you shouldn't try one out sometime. Start off with one or two on the play-money tables and see how you go. If you really think they work, try one out with a few cents on the real-money tables.
4 - Never Play Drunk
That goes for playing when tired too. It might be easy to switch on the PC or laptop after a few drinks and just have a few fun spins, but alcohol seriously affects your judgment.
Suddenly, those outrageous 35/1 bets on the 0 or 00 look like sure things, and you feel invincible.
Unfortunately, the laws of betting don't take into account how invincible you're feeling, so stay sober and play better online roulette as a result.
5 - Learn Good Bankroll Management
If you want to play better online roulette, start with the basics - like handling your bankroll.
Bulldozing onto an on-line roulette table and slamming down $50 out of your $100 roll may be exciting, but you will soon find yourself broke and searching under the sofa cushions for a couple pennies to play with at the micro-stakes tables.
Knowing how to win at online roulette is knowing how much to bet, so only stake a small percentage of your roll - say 0.5% - per spin, and learn to bank all your profits as you go.
6 - Try Out Online Variants
The beauty of playing roulette online is that you aren't restricted to playing the usual American or European versions of the game.
On-line the roulette world is the software designer's oyster. So, as well as the two classic variants, we get Multi-Ball Roulette and Multi-Table Roulette, which utilize the scope of an online casino and let you place multiple bets at the same time.
Elsewhere online you may find Premier Diamond Roulette, which features four colors instead of the normal two, and even weird mixtures of games like Spingo - a blend of roulette, Bingo and Lotto.
7 - Use the Free-to-Play Tables
Have you ever been in a land-based casino and got to try out tables for free before committing with real cash? No, probably not.
The beauty of online casinos is that they will have plenty of play-money tables so you can learn to play better online roulette without risking a dime.
Practise some strategies, test out the best bets, and experiment with a new online variation - that's what makes web roulette so great to play.
8 - Learn To Take a Break
If you're on a big downswing - or even if the gods are smiling on you - it's good to take a break and take stock of your gambling.
Learning to pause for breath is one of the most important online roulette tips as it stops you going on streaks and leads to a more level-headed approach to the game.
9 - Get a Good Bonus
When you sign up to a casino on the web, you'll be offered a great welcome bonus for making a first real-money deposit.
Choose your rooms well and this bonus can lead to some pretty tasty free cash.
A welcome bonus will often match 100% of your first deposit - all for playing the betting games you love. There will normally be a significant 'play-through' amount - eg. 20-30x your initial deposit - but if you can win more online roulette games, you're crushing the house two ways!
10 - Trust Our Recommended Casinos
Finally, all of our great online roulette tips can only be implemented if you choose the best sites on the net to begin with.
Simply read our great reviews, compare a few rooms, and make your decision. We only recommend the very best gambling websites that offer good software, a decent range of games, and trustworthy software and banking. If a website fails, we won't list it - it's as simple as that.