IPAD ROULETTE APPS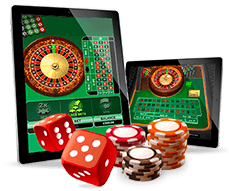 Mobile casino gaming has exploded over the past couple of years, and with the ever-improving technology comes ever more user-friendly games.
Gaming companies have traditionally been slow to keep up with the trends, but in 2023 players across the world can play roulette online on their smartphones.
Apple fans now have access to the best online betting sites, and you can find top iPad roulette apps to download and play for real money. Our team has tested many of the apps for iPad roulette, and the current king of this market is Intercasino.
Our team at OnlineRoulette.com has scoured the net for the best online roulette for iPad:
Find a great iPad roulette app that works for you

The best graphics and easy-to-use touch-screen software

The same top bonuses as Mac and PC users

Great game play and available on the move
iPad Roulette App Downloads
Visit the App Store and you may struggle to find an iPad roulette app that can be downloaded to your portable device.
However, although Apple may have been reluctant till now to allow gambling apps in their store, we are starting to see more and more appear.
iPad roulette apps can be downloaded to your device and will work perfectly in iOS. If you can't find an iPad roulette app for download there, try heading to the homepage of a good online roulette site - you will often find native apps to download direct from the gambling website.
How iPad Roulette Apps Differ From Mac
What's the biggest difference between your Apple iPad and a computer? The touch-screen, of course!
Roulette rooms that offer an iPad roulette app will alter their traditional software so it works seamlessly on your small 9.7" screen (if using an iPad) or 7.9" one (if using an iPad mini).
The bet and spin buttons will be handily placed for easy touch, and the table layout may fill the screen a little better to make use of every inch of space.
Placing a bet on a game of online roulette for iPad is easy - just swipe your finger across the betting layout and move the chips where you want them. Then, when the virtual croupier is ready to go, the wheel will spin in the usual way.
Top No Download Roulette On iPad
While native iPad roulette apps are great, they do take up a lot of space on your iPad, especially if you have downloaded a dozen different sites' apps.
And what if you want to play at a gambling website that doesn't offer a download iPad roulette app?
That's where playing great non-download apps come in.
Many sites offer great roulette games to play via your web browser. They still play to suit your iPad screen but there's no need to download cumbersome iPad roulette apps - just fire up the tablet, log-in and play via your web browser wherever you are.
We Find The Best Roulette On iPad
A new Apple iPad release is always greeted with lines snaking around the corner outside the Apple store and several million units being sold in minutes.
And while the iPad is a victim of its own marketing success, there's no doubt it is fast becoming the choice of tablet for savvy gambling online fans.
Apple may still have an issue with Flash - the software behind a lot of great roulette on iPad - but if you can get past this you will find a ton of top gaming sites offering iPad roulette apps just for you.
At OnlineRoulette.com we have swiped our fingers at some of the best - and worst - sites offering online roulette for iPad devices in 2023. We test and compare a range of criteria to make sure the software is slick, glitch-free and totally safe. When you pick one of your recommended links you will find a web roulette room on-line that has checked all the right boxes.
If you pick one of our great iPad roulette apps today you can even take advantage of a super real-money deposit bonus for new customers.
FAQ
Yes, you can play online roulette on iPad.
What models are supported?
Every iPad model is supported. All you need to play online roulette is a stable internet connection to log on your account and start playing.
Should I use a site or app?
Apps are developed specifically for mobile devices like tablets and smartphones, so they generally include more features that take advantage of your iPad's functionalities. However most sites today are mobile-optimised and will look and feel great on your iPad too.
Are any built for the iOS platform?
Yes, many online casinos have launched apps especially for the iOS platform which you can download onto your iPad.
How do I find the best apps?
You can find the best apps online by checking out the up-to-date lists of roulette apps and player reviews on various websites that compare roulette apps and help you pick the best for you.
Absolutely. You can play free online roulette on your iPad and improve your skills before signing up for a real money account.