ONLINE ROULETTE FAQ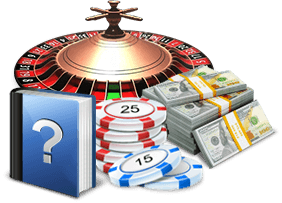 Red or black? Odds or evens? Inside or outside bets?
There are plenty of questions to ask yourself when making a bet at online roulette, so complicating things further with roulette questions like: Where Should I Play…How Can I Trust the Sites…and Is the Software Legit should be the least of your worries.
Playing roulette on the web in 2023 doesn't need to be a hassle, so to smooth things a little more we've compiled a list of the most-asked questions roulette players want to know.
Then you can get back to enjoying the best roulette gambling on the net - and crushing those tables!
Is it Safe to Play Roulette Online?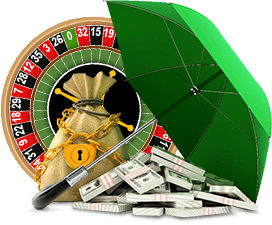 You want to enjoy real-money roulette safe in the knowledge that the games are fair and your personal data is secure.
So do we.
As long as you pick a top gaming casino that has passed our stringent checks here at OnlineRoulette.com, there's nothing to worry about.
We review and then list only the great rooms where you can enjoy totally safe roulette play. All of the best websites we recommend are licensed and regulated, and have been tested and compared to make sure their software and security are sound.
How Are Online Casinos Licensed?
There are many gambling jurisdictions across the world that issue gaming licenses to casino sites so that they can legally operate and supply Internet players with top roulette games.
Licenses are strictly issued, with guarantees needed on players' safety and proper banking procedures in place.
Regulation can vary from one jurisdiction to another, but for the most part the majority of them are pretty strict. Web roulette sites licensed in Alderney and Gibraltar, for example, will be strictly regulated and are therefore websites to trust. Rooms licensed in places like Antigua & Barbuda or Costa Rica, meanwhile, may not offer the same level of security.
Are Online Casinos Audited?
Most licensing jurisdictions will also insist on independent auditing to ensure the roulette games are totally above-board.
Look for logos on the casino's homepage like eCOGRA (e-Commerce Online Gaming Regulation and Assurance - a mark that the casino has regular audits to show their players they adhere to the rules of fair gaming and responsibility.
Under independent audits, regular RTP (Return to Player percentage) and RNG (Random Number Generator) reports are produced. That means the spin of the virtual roulette wheel and the relevant payouts are strictly tested.
Do I Have to Download Software to Play?
No. Normally you will have the choice of downloading a special client to your desktop or phone, or use Instant Play no-download Flash games via your web browser.
Both options are perfectly valid, but there may be added security risks with no-download roulette games. Players should always ensure they're not on a public computer, and if they are, remember to delete their personal login info and cookies before leaving the machines.
Security aside, playing a no-download game allows the player to log in anywhere, anytime, on any machine and play roulette for real money.
Do I Have to Play for Real Money?
No. Most casinos on the Internet let you try out the games for play money before taking a first spin with cash. Play money games are great for learning the ropes and testing out some of those wacky roulette variants you can find at casinos online in 2023.
What Betting Limits Will You Find?
Wagering limits can vary wildly from casino to casino, but generally you will have a much wider betting range online than you will find at a land-based casino, specifically at the lower limits.
On an average European Roulette table, minimum bets of $0.25 on the numbers and $5 on the outside bets (Red/Black, etc.) are common, and that will come with a $150 maximum sit-down. At the other end of the spectrum, you can usually choose a table with a maximum bet of $50 on the numbers and $150 on outside bets.
How Many Games Does an Online Casino Have?
Again, it can vary from site to site, but you can easily find six or seven different variants of roulette at a good casino. That doesn't just include the classic European and American versions of the game, but great variants you can only find online, such as Multi-Ball, Multi-table, and branded roulette games like the popular Marvel Superheroes game.
How Easy is it To Make a Deposit?
Loading up your roulette account with currency is as easy as punching in your credit or debit card number in the roulette casino's Cashier. Most good casinos will also let you use third-party e-Wallets or even bank transfer and check payments.
Some countries still pose a few problems in processing gambling payments, so make sure you know where you stand at home before making a real-money deposit.
Is My Money Secure In an Online Casino?
The top gaming sites will use the same SSL security employed by the major credit card companies and banks. It's essential that the casino you choose uses only the best encryption so that your financial transactions are protected. As long as the casino is covered, so is your money.
Will I Really Get an Online Roulette Welcome Bonus?
As long as you can commit to the casino's playing requirements, there's no reason why you can't trigger a juicy welcome bonus.
Bonuses vary from site to site, but all work in roughly the same way: play enough roulette during a certain timeframe (for real money) and you can earn a great 100-200% bonus on deposits up to $500 or even more. That's free cash for playing the games you love!
What Is a Random Number Generator?
A Random Number Generator (RNG) determines the outcome of the ball falling in a slot on a virtual roulette wheel. Of course, online you can't totally recreate gravity or the movement of the dealer's hand, so RNGs have to be totally random to ensure 100% fairness.
RNGs will be independently audited (See above) at the best casinos so you can be sure of a fair spin every single time.
What Do They Mean By "Payout Percentage"?
Most online roulette casinos will list their 'payout percentages' on their site somewhere, but these figures can vary - often wildly - from casino to casino. The percentage is similar to the RTP (Return to Player Percentage) listed for online slots.
Essentially, a payout percentage is the amount paid back to gambling players by the casino per $100 bet over time. So, let's say an Internet casino has a payout percentage of 94%, they are paying back 94% of all money bet and keeping 6% for themselves. It's worth bearing this 'house edge' in mind percentage before choosing great betting sites.
What Makes a Good Online Roulette Casino in 2023?
Finding the best on-line casino offering roulette can be hard because there are just so many factors to consider. Following our recommended links is the best way to hunt out the top rooms online in 2023.
Great online roulette casinos will have a range of great games at all stakes with seamless software and audited RNGs for totally fair play. They will accept a wide range of real-money deposit options for quick banking, and cash out your winnings as quickly as possible.
And if you're worried about your personal data falling into the wrong hands, the best sites offer top security measures and encryption.