FIND THE BEST MOBILE ROULETTE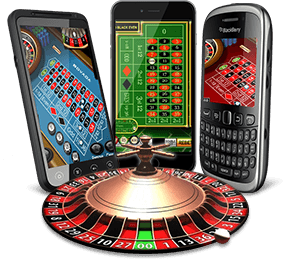 Mobile roulette casinos are gaming platforms designed for use on your cellphone.
Whether you're on the latest Apple iPhone, iPad, Android device or BlackBerry, you can in 2023 play great roulette mobile games apps on your device anywhere you are.
As the quality of smartphones improves, so will mobile casino technology, and mobile roulette games are only going to get better in the coming years. As a casino that is on the cutting edge of mobile gaming, we list Intercasino as the best place to play from your phone or tablet.
Gambing on the go makes online roulette via a mobile casino play easy accessible. That Android or Apple device just became the smallest casino you've ever been to - and the mobile roulette games are in your pocket!
We find the best online roulette mobile sites in 2023:
Play top roulette mobile games on a great range of smartphone makes

Find the best range of roulette apps for your cellphone

Get the same top welcome bonuses as PC and Mac players

Play the best roulette games whilst on the moveuses as PC and Mac players
How Mobile Roulette Games Differ to Online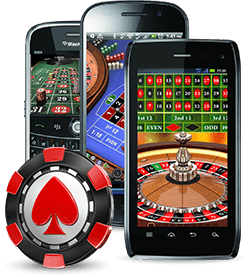 It should come as no surprise that the versions of roulette available to Android, iPhone, and iPad owners are similar to existing online casino versions.
Developers of cellphone casino games apps aren't trying to re-invent the (roulette) wheel; just provide the game we already love in a new and more convenient format.
What that means is adapting a typical roulette table and wheel to fit your phone's touch-screen and have the betting buttons moved. If a roulette online mobile website is good, the games should be easy to play on even the smallest screen.
Different mobile platforms offer a variety of styles of roulette, like you'd find at an Internet-based casino, so be sure to check the rules before you gamble with real money.
Thankfully, as with the best online gambling sites, most iPhone roulette software is available in a play-money version. That gives you the opportunity to get some experience playing the game on your smartphone before you put your hard-earned cash on the line.
The Benefits of Online Roulette Mobile Games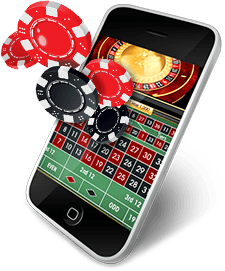 The main advantage of a real money roulette app on your smartphone is convenience.
If you've got an Internet connection on your phone, you can play real-money roulette. If you are traveling on a bus or train to work that has a great Wi-Fi connection, you can play some top roulette apps for real money to pass the time.
Another benefit is the ability to play via a web browser. Not many online roulette mobile casinos in 2023 have downloadable apps (although many new ones are beginning to appear) so you will have to rely on instant-play mobile roulette games which you play in Flash.
There's no need to download bulky software apps to your smartphone, but it does rather leave you at the mercy of cellphone security fraud. If you are on the move, make sure you wipe off the cookies in between gambling sessions.
The Future of Mobile Roulette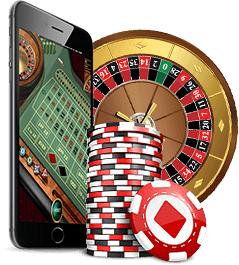 A couple of years ago, it would be nearly impossible to find a roulette mobile app that worked on your phone.
In 2023, however, mobile gaming is big business, and developers are rushing to get their games into the app stores.
If this style of casino play turns out to be as successful in North and South America as it has been in other markets, expect to see plenty more mobile casinos online and on your smartphone, especially with 4G technology spreading across the world.
Smartphone Roulette FAQ
Can I Trust Mobile Roulette Sites?
As with anything online, there are trustworthy gaming platforms and ones that are not so trustworthy. Use common sense, do your research, and (when possible) play smartphone games offered by an online casino that you already trust. Better still, read our leading reviews and compare the rooms for yourself - our great write-ups will lead you straight to a top online roulette mobile website.
How Do I Find Roulette Games For My iPhone?
The App Store is your first port of call to see if there are any roulette apps you can download onto your iPhone or iPad.
Failing that, check to see if there are rooms offering mobile roulette games that can be played without download on your Apple cellphone.
Are Smartphone Casinos Rigged?
Some people will always believe that Internet gaming is rigged, and there's no way to convince them otherwise. Look for certification from eCOGRA or other independent auditing bodies to ensure a platform's fairness, and don't be shy about reading online reviews to hear about the experience of other iPad and iPhone gamblers. Our recommended mobile roulette casinos have all passed the most stringent security checks.
Do I Have to Learn an Entirely New Way to Play?
Every mobile gambling platform will have a version of the Devil's Wheel that you're already familiar with, including both European and American Roulette mobile casino games and other variants. The main difference with an app is that the games will have been adapted to fit the smaller screen and utilize its touch capabilities. Betting on roulette mobile games should be even easier than using a mouse!