Split Bets Boost Payouts, Not House Edge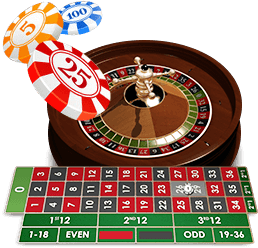 Online roulette has quickly gained a huge following at Internet casinos due to its easy-to-understand rules and gameplay, and if you know how to bet, you too can discover all the excitement and thrill roulette has to offer.
In 2023, online casinos that are top-rated almost always offer online roulette, and if you still haven't taken advantage of this wonderful table game, there's no better time than now. Internet gambling venues are offering free welcome bonuses, which means free money to spin the roulette wheel. One of the most exciting bets is a split bet, which combines numbers and colors, odds and evens, into a wager that increases your probabilities of a potential payout.
Online Roulette Split Bets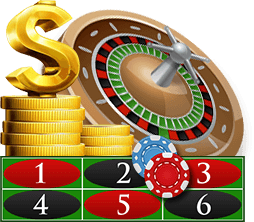 The standard split bet at online roulette involves betting on two numbers by placing your chip on an intersecting line. This is referred to as an "inside bet" as the intersecting lines reside on the inside grid on the felt.
Why Split Bets?
Split bets come with the same house edge as all other bets, 5.26 percent on the American wheel featuring the 00, and 2.70 percent in European roulette which excludes the double zero.
Split bets, while maintaining the same house edge, pay 17 to 1, the second-highest reward for any wager other than betting on a single number.
With two numbers, there's two ways to win.
Since your chip is on two numbers, your chances of winning are 2/38 on American roulette, and 2/37 for European. Though the odds aren't exactly strong, they are still high enough to warrant a bet from time to time due to the rather large payout. In American online roulette, the probability of winning is the same as the house edge, 5.26 percent to 5.26 percent. European is even higher at 5.41 percent probability.
You can place a split bet across two numbers both vertically or horizontally. For instance, you can bet on the 7/8 by placing your chip on the line bordering both numbers, or the 14/17, 26/29, etc.
Three Number, Four Number, Five Not So Kind
In addition to the split bet, there are other options for betting on additional numbers.
Street: This is a single bet on three numbers. Place the chip on the left side of the left column to signal you're betting on the street. Pays 11 to 1.
Corner: Place your chip at the intersecting corner of four numbers. Pays 8 to 1.
Five Number: Available in American roulette, this is the worst bet on the felt. Bet only pays if ball lands on 00, 0, 1, 2, or 3. Avoid at all costs, unless you're feeling luckier than the number seven. Pays 6 to 1, but increases house edge to 7.89 percent.
Six Line: Placed on the left intersecting line of the left column, the six line bet is available for numbers 1-6, 4-9, 7-12, etc. Pays 5 to 1.
Split Bets Conclusion
Splitting your bets in online roulette is a smart and simple strategy to increase your payouts while maintaining the house edge. With more numbers to win, a split bet will increase your winning over betting on single numbers. The more numbers you bet on, the more frequently the dealer will be handing chips your way!
Of course, more numbers also means reduced payouts. It's all about risk and reward, as is the name of gambling. With so many online casinos in 2023 offering both American and European roulette tables