FRENCH ROULETTE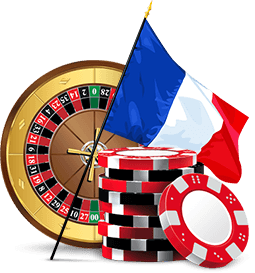 The French know how to do things a bit better than everyone else - wine, cheese, style - and when it comes to gambling they do roulette a little better too.
Roulette spread across the world after primitive formats of the game were being developed in France, and while American Roulette may be king in many parts of the world, the French have clung onto their very own version of the game - French Roulette online.
If you're interested to learn more, check out our guide to French Roulette and start learning some top French Roulette strategy today. We have listed all of the top sites that offer this game. As our current favorite, we feel that you can't go wrong when you play French roulette at Intercasino.
Real-Money French Roulette Games
If you've only played American Roulette you will recognize the French wheel. In every respect it is the same as the European wheel - 36 numbers plus a single zero slot ONLY (there's no double zero slot in French Roulette online games).
This drastically reduces the French Roulette online house edge - from 5.26% to 2.7% - so the French variation might be more favorable to you.
If you're into your French Roulette strategy it's worth noting that the betting layout is slightly different too. Basically, the sections will be in French and English, but even a passing knowledge of French is sufficient to figure out where to place your bets.
La Partage and En Prison
The major differences with the French form of the game and American or European Roulette is the presence of the insurance bets - La Partage and En Prison.
La Partage ('Shared') comes into play when you place an even-money bet on Red/Black or Odd/Even.
If the ball lands in the single zero (0) slot you get half your stake returned to you.
While the house edge on a French wheel is 2.7%, the La Partage rule reduces this even further to 1.35%. It's no wonder real-money French Roulette games are such a draw on the web.
Go to a casino in Monte Carlo or play French Roulette games on the net and you will also see the En Prison rule in play.
It can be a good strategy. If 'La Partage' is in play, you may be offered a different option - En Prison, or 'in jail' - where your whole stake is placed with a marker on top En Prison and you can let it ride on the next spin. If it wins you win your entire stake back. If it loses, you lose the lot. It's like a second chance for winning the whole bet back and is good if you've wagered a particularly large amount.
Wherever You Play, Get the Best Deal
You might not find the French games at every Internet casino in the world, so you have to make sure that the sites who do offer games on the French wheel have a wide range of games and stakes to suit all tastes and budgets.
If you have problems with the rules or placing the bets, how good is the customer support? Rooms with great real-money French Roulette games should have help when you need it, be it by email, phone or instant chat.
We Find Top Roulette Games in 2023
We hope these French online Roulette tips will have you heading straight for your nearest web casino. There are so many great real-money French Roulette games on-line in 2023 the choice of where to play is huge.
Follow one of our top links today and you can even earn a nice welcome bonus. Play more real-money French Roulette games and start winning free cash courtesy of the casino sites.
FAQ
How does French roulette work?
French roulette works like European roulette with a wheel containing 36 numbers plus a single zero. Players make bets on the outcome of a spin of the wheel by placing their chips on the appropriate part of the table.
French roulette is quite popular since it offers insurance bets that reduce the house edge and improve your odds of winning money.
Most online roulette websites and casinos let you choose from a wide range of roulette styles, including French roulette.
What are the main differences with European Roulette?
The main differences between French and European roulette is that the former has a different table layout with French jargon printed on it. Moreover, French roulette introduces La Partage (Shared) and En Prison (Jailed) rules which give more flexibility in how you can bet your stakes.
The odds of French roulette are fairly similar to European style and better than American wheels. With La Partage rules in play you can improve the odds even further.
Can I use an existing betting strategy?
Yes, most betting strategies used with other roulette variants will work perfectly well with French roulette too.
Will a roulette system work?
Not necessarily. Many systems have been shown not to work as well as players think, or not at all. Those systems that do improve your chances of winning require very large budgets and the ability to keep on playing for a long time.