Roulette: Safety In Numbers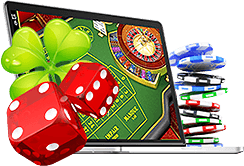 You walk into a casino and are immediately captivated by the glitz and glamour, energy, and sheer excitement. The slots ringing, craps players buzzing, and roulette table as boisterous as ever. Gambling has been enjoyed for centuries by those looking for an escape from the day-to-day humdrum of life, and for many their preferred game of choice is roulette.
Typically one of the more crowded and popular games in a land-based casino, roulette has made the transition to online play very well. The wheel at a casino online spins smoothly and realistically, as many of today's leading gaming software developers are masters of their craft.
The online roulette casinos we recommend all feature stunning graphics and seamless play, one of the most important requirements we impose. In 2023, the web's top-rated casinos also come with live dealer play, giving you an unmatched realistic gaming experience from the comfort of your own home.
Why is roulette so addictive?
There are many reasons for roulette and online roulette being so appealing, perhaps downright addicting, to such a large population of gamblers.
First and foremost, roulette is a very easy game to learn, and simple to play. There is no considerable learning curve as is the case with other table games such as poker, baccarat, and blackjack. From beginners to seasoned roulette players, there's no definitive way to improve or lessen one's odds.

While simplicity plays a role in roulette's popularity, it's the "roll" of roulette that is truly responsible for its mass appeal. The visible spinning of the wheel and bouncing of the ball creates a physical element of chance not typically seen in other games. In slots, a computer reveals your results. In blackjack and baccarat, a dealer simply turns a card. In roulette, it simply feels and looks more exciting!

On top of those two factors, roulette also brings camaraderie and socialness to the table. In many other games you're playing against other players or a dealer, but in roulette all the players are on the same team. Even the dealer doesn't have a stake in the outcome, only the casino.
Roll On Roulette
Though certain games are struggling making the conversion to online casinos, roulette is rolling on. Popular for centuries, it's safe to say roulette's dominance at the casino won't be changing anytime soon. Easy to learn and easy to play, the tremendous appeal of roulette is here to stay. With more and more Internet casinos offering online roulette and even live dealer roulette, the game should only become more prevalent as players can experience the rush of the wheel from the comfort of their couch.
Most casino games that are straightforward and simple feature an enormous house edge. Slots put the casino at an advantage of upwards of 20 percent. Keno is even higher, and those progressive machines feature huge jackpots but also huge house edges.
But luckily for you, there's roulette! There's a reason it's been able to reside at the forefront of the gambling industry for hundreds of years. Its staying power is due to its simplicity, excitement, and reasonable 2.7-5.26 percent house edge.
It's the best of all gambling worlds, and thanks to the Internet you can start playing roulette at this very moment. Choose from our list of recommended online roulette casinos, and you'll be spinning to win in no time!