Facebook Roulette Online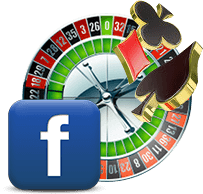 Facebook roulette might mean different things to different people. For some, it is an ill-advised application that lets six friends pull a computerized trigger to see if their account will be completely deleted by the roulette app. The destructive "game" was later removed after Facebook discovered the Russian roulette turned social app was in violation of its terms.
To online gamblers, Facebook roulette likely means a more safe and conventional description, playing the popular casino table game directly through your social media account. Online gambling has quickly become one of the most popular ways to place a wager around the world, with laws continuing to expand to bring new customers to the online casino floor.
Roulette has always been well-attended by gamblers at land-based casinos, and on the Internet that also holds true. The basic fundamental rules, plentiful betting options, and camaraderie of the table all adds up to the most exciting game in gambling. Like roulette, Facebook is the leader in its industry, so combining both into your social media activity has understandably gained traction among seasoned betters and casual gamblers alike.
Facebook Roulette
If you're an avid Facebook user, you've likely been inundated with game requests from your friends at one time or another. Games on Facebook are big business, as many have additional purchase options in-app that lead to substantial profits for both the game developer and Facebook. In 2023, Facebook offers many online roulette applications for its users from a wide array of software companies.
Facebook roulette is quite similar to other online and land-based versions, with the same bets and payouts being offered. From evens and odds, black and red, to split bets, corners and more, if you're familiar with roulette rules and strategy, you'll have little to learn when it comes to Facebook roulette.
Roulette Arena
Perhaps the most popular app is Roulette Arena, an offering from the social gaming platform LazyLand. Roulette Arena gives players the ability to compete live along with their friends and other random gamblers. The app doesn't offer real money roulette play, but does provide in-app purchases to reduce advertisements and increase chip counts. More than 100,000 Facebook accounts have downloaded and installed Roulette Arena.
Roulette
Akamon Entertainment, another software social media developer, has the second most popular Facebook roulette app with more than 10,000 accounts currently activated. The Akamon version of roulette uses the European wheel, thus eliminating the double zero and increasing player odds by diminishing the house edge. Up to eight players can compete at a table simultaneously.
Roulette Empires
Another Akamon offering, Roulette Empires creates unconventional roulette environments for the table game such as under the sea, amongst the pyramids, and in the wild, wild west.
Roulette Tournaments
From DragonViking Games, Roulette Tournaments has about 10,000 active players at its wheels online. This app allows players to begin with free cash and work their way up the social media leaderboards. Should they bust, in-app purchases and additional free bonuses allow them to refund their bankrolls.
Facebook Real Money Roulette
Several gaming companies have reached deals with Facebook over the last few years to offer real money gambling, but few to none have been successful. Most notably is 888 Holdings, the Gibraltar-based company that operates the 888casino, 888poker, and other online networks.
The first real money casino product on Facebook was the Magic888 Casino, but after just over a year of operation, 888 pulled the app due to poor social media real money gaming performance.
The main problem with real money social media gambling is that Facebook and other platforms take a small percentage of each bet or win, depending on the agreement terms with the gaming operator. Players interested in real money gaming can bypass that rake by simply accessing the network directly, meaning specialized Facebook and social media apps simply aren't worth the expense in the eyes of gambling operators.
That being said, the social gaming companies do financially reward its fun money players based on their performance. From special bankroll bonuses to real loyalty rewards that can be used towards travel and leisure, social media gambling isn't just for fun, but also for potential reward. And best of all, it's almost entirely risk-free!