OFFLINE VS ONLINE
The sights and sounds of the slots and gaming tables, the free drinks, the party atmosphere; there's no doubt visiting a land-based casino rocks.
Meanwhile, logging on your PC while sitting in front of the TV to play roulette doesn't really cut it, does it?
But is live roulette really that much better? Should you ditch the tuxedo for the desktop? And who ultimately wins in the battle of the online vs. offline games? Let's compare the two and show you why online roulette has so much going for it.
The Convenience Factor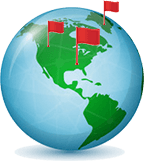 In 2023, playing roulette online is as easy as signing up to a casino website for an account, logging in and depositing some real cash.
But how long does it take to get to your local land-based casino? Is it down the road, miles away, or outside your country?
If gambling live is tricky - or downright impossible - where you live, playing at roulette rooms on the web is super easy. And with new casinos appearing all the time for smartphones and tablets, the mobile roulette revolution is making on-line gaming even easier.
Range of Games and Stakes
How many roulette tables did the last land-based casino you visited have? 2, 3, 50? And what stakes were they offering? $1 minimum bets, $5, $50?
Chances are, even at big live casinos, you will be prohibited from playing a lot of roulette for less than a buck a spin. The casinos have to make a profit, of course, so their lowest stakes will normally be beyond the most casual visitor.
Online sites, however, have none of the overheads of their offline cousins, so you can enjoy a lot more games covering a wider range of wallet-friendly stakes.
Online you can also enjoy many more variations of the top gambling game. Most live casinos will feature American Roulette; online, you will usually find American AND European Roulette, plus exciting roulette variations only found on the web.
Comps and Bonuses
Land-based casinos - particularly the big ones in Las Vegas - will offer regular roulette players a range of nice comps like free drinks, meals or even hotel rooms.
But how do those comps stack up compared to what you can earn online? OK, you may not earn a hotel room for the night - although most good online casinos will run regular promotions including holiday giveaways - but you can earn a lot of free cash simply in return for making a first deposit and playing a lot of roulette.
Great welcome bonuses can run into thousands of dollars but will always come with strict play-through criteria. If, for example, you deposit $50 you may have to play through $1500 of bets just to earn a bit of extra cash, so it's worth checking the site's Ts & Cs before you commit.
The Entertainment Factor
Betting at home, in your underwear, with the curtains closed, offers roulette fans in 2023 a unique way of gambling.
But what about the excitement of visiting a real casino at night with all the whooping, hollering and party vibe it contains? How can you recreate that at home?
It's difficult, and while online roulette sites try to load up their rooms with plenty of color and sound, there's nothing that quite beats a late-night visit to the casino.
The Social Network
Playing in a real casino lets you rub shoulders with real people and interact with a real croupier as she spins the wheel.
There's camaraderie with your fellow gamblers as you try to take the house down together, the high-fives all round as your number comes in, and the pleasure of tossing the dealer a nice tip as you leave the table.
Online roulette, by comparison, is more of a solitary affair; it's just you against the computer. One way casinos online have rectified this is to introduce Live Dealer Roulette games, which allow you to chat live with a real-life dealer via a webcam who's standing in a real-life casino. The games bring a slice of Vegas into your front room.