Roulette Vs. Blackjack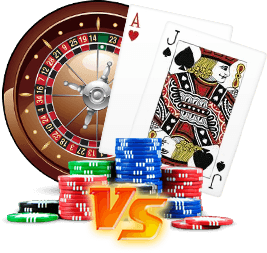 Roulette vs. blackjack is a heavyweight bout between two games that receive much of the table action in land-based and online casinos around the world. With blackjack dating back to the 17th century and roulette following in the 18th century, the duel has been ongoing for hundreds of years. In 2021, players adamantly play both table games, but of course have their preferences when it comes to choosing which one they'll play more often.
At a casino online, roulette vs. blackjack gets even more difficult to separate, as both comes with their advantages and drawbacks. Since Internet gambling's earliest days, our site has reviewed the leading online networks and casinos, as well as their games. Overtime, we've come to master the process and today solely focus on providing an easy-to-read blueprint for online gaming success.
Learn the assets and liabilities for both roulette and blackjack with our in-depth guide reviewing these two wildly popular games.
Blackjack
Though many gamblers believe blackjack is all about getting your hand as close to or equal to 21, aka blackjack, the real object of the game is to simply beat the dealer's hand.
One to eight 52-card decks are commonly used at casinos for blackjack, with cards 2-10 counted according to their value, Aces counting as 1 or 11, and all face cards counting as 10. The goal is to have your hand top the dealer's without going over 21 and busting.
Blackjack at land-based casinos are certainly some of the more active tables. Working together with all players to collectively beat the dealer and make them bust creates an environment of camaraderie. However, much of this is lost at online casinos, as the majority of games are computer automated and played solitarily. Some gamblers prefer the decreased social interaction, but it gives the casino a greater house edge as the dealer is only trying to top one person instead of a table.
In 2021, live dealer blackjack is now offered at many leading Internet casinos, including most of the sites that have garnered our recommendation. This allows virtual players to essentially sit at the same table and work together to beat the live human dealer.
Blackjack has one of the lowest house edges in an entire casino, perhaps the leading reason why the game is one of the most played formats on the floor. This of course is only true if the person placing the bets understands blackjack strategy and optimal betting procedures. If a player sits down essentially blindfolded without a thorough understanding of blackjack, the edge can greatly increase.
Keep in mind that the edge also increases along with the amount of decks in play, so if you come across four deck and eight deck tables, it's in your best interest to go with the lower.
Roulette
Like blackjack, a bit of the excitement brick-and-mortar roulette brings to the table is lost online, as the thrill of watching the ball dance around the wheel is diminished digitally. But also like blackjack, today's online casinos routinely offer live dealer roulette, bringing back that physical element and visual presence.
American roulette with the double zero wheel comes with an edge of 5.26 percent regardless of all but one bet, and 2.7 percent for Euro roulette, a format free of the dreaded 00. Those house edges won't break any records on either side of the scale, as blackjack is much lower but slots is much, much higher.
Roulette also has one distinct advantage over blackjack in that there isn't a real winning strategy or betting schemes to be learned. Other than avoiding the first-five wager on American roulette (the only bet with an increased house edge), roulette is simply a game of chance. While that means there's no way to increase one's odds, it also means there's no way to hurt them, an attractive concept for casual gamblers.
Conclusion
When it comes to roulette vs. blackjack, people have strong inclinations, and while there is no way to definitively pick one or the other, when it comes to online gaming roulette is pretty tough to beat.
Blackjack in a physical casino is a great game for its super low house edge and strong chance of winning money, but online the experience falls a little flat. It's also slower than many other live dealer games online, especially when compared to craps and roulette.
Roulette certainly loses a bit of its muster online too, but it still retains its overall excitement and thrill. With live dealers, the sociability and togetherness of watching the wheel spin can now be experienced from the comfort of one's home. If you haven't yet tried gambling and playing roulette online, there's no better time than 2021.