ROULETTE ONLINE BANKROLL MANAGEMENT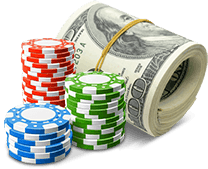 Most casual roulette players will stroll into a live casino or log on to their on-line account and put down $10 or $20, lose, then walk out/log off.
While that money was always intended for a bit of fun, more serious roulette players will need to employ stricter practises if they want to see their bankroll flourish.
That's why - as with all good gambling disciplines - sensible bankroll management is key.
Let's take a look at six top tips that should see your funds stay healthy - in good times and bad.
1 - Stick Within Your Limits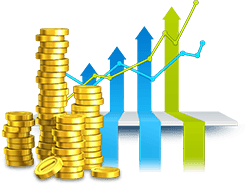 It seems obvious to say, but betting with cash you can't afford to lose is the top tip for playing online roulette.
If you are gambling online with your last $50 in the whole world, how hard are you going to take it if you blow the lot?
Start off with small stakes (most online roulette sites boast plenty of cheap tables) and work your way up, sticking to the even-money outside bets to start with and avoiding the more risky inside 35/1 bets. If you have any profits, keep track of what you have won, and when (perhaps consider making up an Excel spreadsheet for this) and log your gaming time - that way you can build up an accurate profit/time record.
2 - Keep Your Funds Separate
Where are you loading your gambling online account up from? Your normal checking account, a credit card you've forgotten how much is on, or only by weekly trips to the Western Union outlet?
Whatever your deposit method, consider keeping your gaming funds in a totally separate bank account away from your household bills, food money and rent. This way, you know exactly what cash you have for gambling. If it's getting near zero, move down the stakes; if it's healthy, alter your roulette play accordingly. But try to never top it up with funds from your regular bank account.
3 - Play the Right Games
At your local brick 'n' mortar casino in 2023, you will be lucky to get a table of American Roulette and not much else.
Online, however, you are free to play American or European roulette, plus a bunch of other exciting variants.
Whatever you do, make sure you choose the games with the lowest house edge. In casinos that have both European and American, that means picking the European tables with their single zero slot. Without the 00 slot of the American roulette games, they reduce - quite drastically - the casino's house edge.
4 - Don't Get Emotional
Going on a downswing sucks, but we all go through it. Learn to ride with the rollercoaster and enjoy the losses as well as the wins; you'll be a happier roulette player for it.
And while we're talking about emotions, don't play and drink - ever. Drinking alcohol severely reduces your capacity to think rationally when gambling - in fact, you'll feel like some roulette superhero. Who ever got drunk and sensibly played the even-money bets at $1 a go? Not many, we'd wager.
5 - Know When to Stop
The best advice for anyone - whether they're winning OR losing - is to take regular breaks and take your mind off roulette. Internet roulette can be a thrill, but sessions can find themselves stretching to hours without you realizing. It's important to stay disciplined, take stock of your betting activity and turn off the PC if you need to. Burning out is not an option!
6 - Find a Top Casino Bonus
Choosing rooms with great welcome bonuses in 2023 is the final tip on maintaining a healthy bankroll.
Casinos on the net are all competing for your business, so make them do their work by hunting out the best 100% or 200% sign-up bonuses for first deposits.
As long as the website caters for roulette players in their bonus allowance (always check the Ts & Cs) there's nothing to stop eager roulette fans playing through hundreds of dollars in order to quickly trigger a tasty bonus. Bonuses can range from $50 to $2000 so check our links today and compare them for yourself.